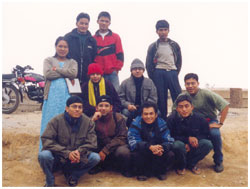 It all started as a joke. In one of those addas at my house Nilu suggested we travel somewhere. From Bangkok, Singapore, Goa, Nainital to our very own Digha (a seaside tourist resort about 300km from Calcutta) our minds were racing to all parts of the world. But finally we decided to meet at the WBTDC information center at Dalhousie. And they strongly suggested Reshyap, a place without electricity, telephone & television. Nilu and Sudeshna had their apprehensions but both me and bhai strongly turned popular opinion. So Reshyap it was. I sent a casual mail to Bhutto teasing him that we were going to a fabulous land. To my surprise he flew in like a bird and joined us. So the gang was Sudeshna, Bhai, Nilu, Bhutto and Me. We were married 2 months and this was to be the alternative to our honeymoon.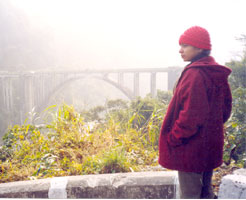 We reached Esplanade to board the rocket to Siliguri from where a Sumo take us to Reshyap. The journey was uneventful and forgettable. All that I recollect is the smell of old seatcovers, sour iron and cigarettes nauseating us all the way. We reached Siliguri at dawn. On our arrival at the bus station it intrigued me that not one tout was looking for visitors to Reshyap. Reshyap didnt seem to be profitable place for touts to take the average tourists. It not only made us feel relieved but pricked our curiousity even further. Buddha Tamang, the driver was waiting with his Sumo. We had a quick brush and he suggested that we go via Kalimpong. The weather was quite chilly. As all Gurkhas, Buddha too was ever smiling. One look at him and he promised a good trip and he did not let us down. He had a good collection of songs, but so did bhai with his own stock - remixes of all kinds.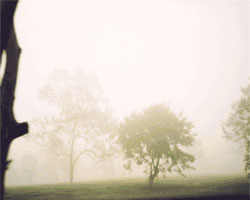 As we raced down the plains the first sightings of the tea gardens welcomed us to this wonderful land - the foothills of Himalayas. When we finally started gaining height our holiday was well and truly on. We stopped at Sepok for breakfast. A small hotel bristling with localites. We were warmly accomodated in the hosts' drawing room where we had piping-hot steamed momos. We picked a huge chain of Lehar Kurkures. Nilu - who played the role of a bartender right through the journey was determined that as long as the drink would last so will the Kurkures. But by the end of the trip each of us vowed never to lay our hands on Kurkures for quite some time to come.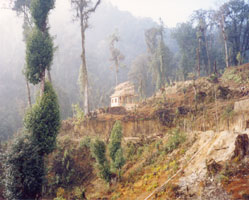 We finally reached Kalimpong. Sudeshna was to get her first and only opportunity for shopping. We sauntered down the town hub and mingled with the localites. Lunch was at a restaurant called Gompu's, the food was simple but tongue-tickling. And we moved onward scaling several layers of mountains. The slopes covered with neat crops of tea plantations, the thickand lustrous cover of pine trees, and even some occasional bald patches or the winding river each had its own charm. It was well past 4:00 when we reached Lava. From there our Sumo veered up to one of the most treacherous road I have ever traversed... And we reached Reshyap.
>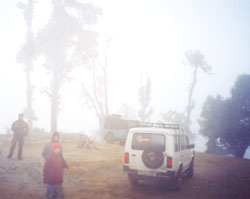 It was a sight I will not forget in hurry. We were virtually walking the clouds. The weather was cold, harsh and foggy. Though the the hotel was clean it was an half-built mess. All of us were dissappointed as we expected a better accomodation. We went on a walk to look for another hotel. It was then we realised what Reshyap was. It was a small village with no more than 5-6 houses. We found another place to live - the Reshyap Tourist Lodge. There were small rooms but with fireplace and everything. The owner was a mysterious bengalee with a goatee and a sauve accent who had married a localite. His presence there intrigued us but we had more pressing things in mind. We walked to back to the hotel deciding that we would shift the next morn.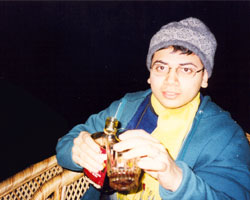 It was dark when we returned. The guy named Manoj had made a neat fire. He was to be our Man Friday for the next 36 hours. We crouched around the fire and Nilu swung into action with the drinks. I had my brandy while the rest were slurping rum. It was cold and we were no less than a feet and a half away from the fire. There was nothing we could do here except talk and talk. It was a unique experience being deep in jungle enveloped by numbing chill and all encompassing darkness. This was the furthest I had ever been from civilization. We sat around the fire for hours on end. The surroundings created a kind of private nook for each of us to lay bare our souls. We didnt realise it was well past 11 and there was no TV. The manager, also the owner of the place had arranged for dinner. Aloo sabzi and roti was a delicacy here since this place did not even have a market. One had to trek 2 km for some chicken. We ate our hearts fill and were quite impressed by our hosts' khatirdari. We decided not to shift from this hotel and each retired for the day.
Sudeshna, bhai and me shared one room (remmember this was to be our alternate honey moon!) while Bhutto and Nilu shared the other. I was into layers of clothing but never before felt so heavy in my sleep. Somewhere in the night while I was in deep sleep a slow groaning sound woke me up. The sound kept rising in intensity and felt like it was approaching us. Frankly I was dead scared. Could it be some thieves or wild bears? I pulled out my money and stashed it in my socks. The noise was unbearable now. My only response was to tuck myself under the layers of blankets and shut myself out. To my surprise and relief the sound slowly faded away.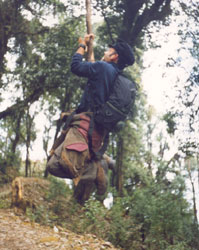 In the morning queried the owner. He informed me that it was 26th January hence most localites go for picnics. They leave early morning to various picnic points. Usually they walk the distance with loudspeakers blaring music. It was one such party who were creating the funny noise on the mike. That is how they had fun. And that is what scared me. Me? Infact it scared each one of us. Quite like me, Bhai, Nilu and Sudeshna also chose to act dead but not Bhutto. He was waiting behind the window with his swiss knife ready to slash anyone who would break-in. However what still surprises me was that none of us tried to wake the other. Our response was individual. Was it none of us wanted to show that each of us were dead afraid?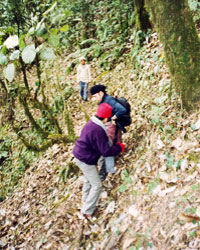 So it was Republic day and picnic parties were still visible trying to trek to beautiful spots. We went on a early morning trek. It was the time of the year when the ice from a previous bout of snowfall had just melted. It was soggy, the rocks and tree trunks were covered with a layers of thick spongy green moss. Our hunger brought us back and we had puri and aloo sabzi. Determined to break the monotony we decided to get some flesh. Our plan - two boys would be escorting us on our trek to Lava where Buddha would be waiting with his Sumo. From there we would embark on our search for some chicken nearby. The trek was fun. While three of us chose to take a treacherous route Nilu chose the easier option. Bhutto's prior trekking experience made him the natural leader. We met Nilu midway and after 2 hours reached Lava. Hungry we ate stopped for some smelly ready-eat-noodles. However we did not get any chicken. It was 26th January and people were feasting. Our hunt for flesh led us to Loleygaon, a place we planned to visit anyways.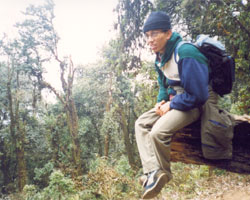 It was another beautiful journey.We were virtually driving through the clouds with the verdant pine trees on either side. Loleygaon had a very nice national park which had a very interesting suspended bridge made of ropes and wood. We had our share of masti and finally found two big chicken totaling 9 kg for five of us. I planned to experiment with them in the evening.
>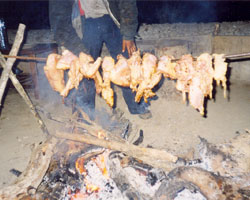 By the time we reached the hotel we were famished. And we had rotis and aloo sabzi in the evening. Time for some fun. I asked our man-friday to marinate the chicken - tomatoes and onions was a luxury here. He understood what I had in mind and arranged for some piles of firewood and a stand where I could hang my chicken. Yes, I was planning to roast them on fire. So when it was dark the fire was made, the buxom chicks were allowed to play with the onion and tomato paste for 3 hrs. They were now slung one after the other on the fire. For the next 2hrs I was rapt in attention tending to the buxom chicks. Everybody including Buddha, man friday and the manager were gaping at the chicken. It was a test of everybody's patience but it bore fruits. It took us approximately 10 minutes to gorge everything down. The whole episode taught me that the ambience is as much important as the spices to make a food tasty and memorable. The bones meanwhile were partaken by a mountain dog. We all retired again. Next day would be our trip back to the plains.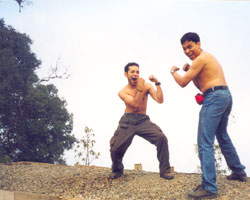 In the morning it was severely cold. So Bhutto and I decided to take on the weather and each other with a bout of boxing. We were to start at 11 am hence without wasting time we went on a trek once again. This time we had a dog as our companion. It was christened Django. It had partaken of all the bones of the chicken the earlier night. That ensured his loyalty for a day. Early morning when I woke up I found him cuddled up on the door front. And it was by our side the rest of the day virtually leading the way. Nilu too was buoyed by our adventurous streak and defied his fear of heights to be with us wherever we went. This time the trek was even better as we ventured deep inside the jungle. However I was saddened by the rampant felling of trees. Huge piles of logs lay stacked at several places. The sign of civilization was omninous here and the mysterious Bengalee owner of Reshyap tourist lodge face criss-crossed my mind. After a three-hour jaunt we were back at our base.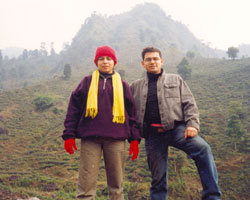 It was time to bid adieu. All of us were sad and reluctant. And so were our hosts including man friday, the manager and his wife. She was the one who was doing the cooking. We bid everyone including Django goodbye. Buddha was ready. While leaving I caught the site of Django drooping on one of the rocks. He looked lonely and forlorn. Buddha suggested we take a different route via Gorbathan and Paparkheti as the locale was quite scenic. Shrugging of our disappointment for having to leave for home we decided to enjoy our journey to the end. On our way back we stopped at frequent intervals wherever we wanted to soak in the atmosphere. This was our attempt to savour our trip to its fullest. Our first stop was Gorbathan which had a small waterfall but sadly the 26th January revelry had rendered the place completely dirty. Strands of plastic lay strewn all around, accompanied by the ubiquitous plastic bottles. A sample case of how man pollutes nature.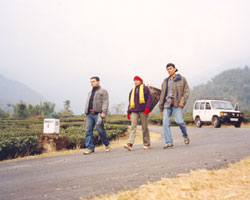 Our next stop Paparkheti however will surely rank among the top 10 beatiful places I have been to. Its difficult to describe the place. Paperkheti is a kind of plateau with cliff on one side and mountain on the other. It is completely covered by tea plantations and a winding road bisects the terrain like a snake. That was to be our last stop on this beautiful journey - a fitting finale and soon we reached the hustle bustle of Siliguri. On reaching we bade Buddha goodbye and promised to meet again. We exchanged our tickets with an air-conditioned bus determined not to repeat our rocket experience once again. But foolishly chose the last row of seats so that we travel together. Thus our entire journey was a complete roller coaster. Needless to see we did not sleep but we ensured others did not sleep too. At 6:00 am we were back to base at Calcutta and disbanded.
For two days we did not live by the clock, did not think about hygiene, did not change even our underwears, did not read a newspaper, nor watch TV or even need a light. I wish I can be back at Reshyap sometime in future but may be the next time Reshyap would have everything whose absences made us enjoy the place so much.