Jassi is a craze in India. It talks about a girl who goes on an image makeover. One of the many recent (when I say recent I am always referring to the post liberalised economy) spin-offs of liberalisation is people's penchant for a image makeover. Jassi only cashed on this. Much in the trends of Hollywood superstars and our own homegrown heroes like Kamalahasan many are experimenting with their looks. Even I got hooked onto it sometime back when I tried increase my hair length. But as of my other ventures I ran out of steam and overall it seemed too laborious an exercise. More recently Opu too was bitten by the bug and what a result. From the two snaps that I have posted here is what I think...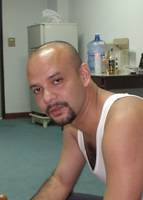 The reaction will be between these two extreme (Opu in the left picture is amused while June is scared)
Impact
On impact angle it has hit the bull's eye. It forces people to notice and generates renewed interest. Case to the point this very posting in my blog.
Recall
We are each a walking-talking brand. In an ever changing world you are being evaluated every now and then. On a recall factor this look does have a lot of recall value as against the buck- toothed one.
Convenience
On a light note its definetly a tropical look suited to our weather. However more time and money will be wasted in maintaining this. But these days this is given.
Personality
It redefines the way you are perceived by your family, friends and professional colleagues. While the earlier look was friendly next door neighbourtypes this one is bordering on the villaneous.
Overall, I rather leave to others to put a comment.. please do....